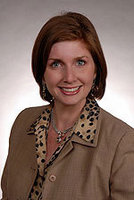 Alpharetta, GA (Vocus) September 29, 2010
Physician recruiters working for hospitals and healthcare systems face significant challenges in recruiting and retaining top talent, according to the latest issue of the Jackson & Coker Industry Report (JCIR).
"The nationwide shortage of physicians, those physicians' concerns for an agreeable work/life balance, and identifying and recruiting optimal long-term medical staff members are top considerations for busy in-house recruiters," mentioned Thomas J. McKeever, National Sales Director for Jackson Healthcare, parent company of Jackson & Coker.
Recently, Mr. McKeever interviewed Rebekah Driggers, Director of Physician and Specialty Recruitment at Moses Cone Health System in North Carolina. The latest issue of the Jackson & Coker Industry Report features the entire interview in its "Healthcare Executives' Insights" column.

The interview noted a number of issues that in-house recruiters face in sourcing outstanding candidates for permanent employment consideration:


Recruiting physicians for permanent hire is a matter of bringing on board "caregivers to the entire community." Having some knowledge of community-wide medical needs in the catchment area is crucial in this regard.
The physician shortage is compounded by doctors who opt for retirement—a trend likely to continue in light of uncertainties that surround health care reform. It remains to be seen, however, how this trend will play out as potentially millions more patients are brought into the U.S. health system.
Hospitals that receive FQHC funding as a federally qualified health center (such as Moses Cone Health System) have more resources for staffing development. But knowing which medical specialties to focus on for recruitment purposes requires careful consideration by hospital administrators and recruiters.
Developing effective relationships with doctors as prospective candidates is vitally important in the recruitment process. Once they join the medical staff, they can serve as a source of referrals for other recruitment campaigns.
Achieving a "good fit" is essential for the hospital or medical practice as well as for the newly hired physician. If the doctor is comfortable with the clinical setting, the medical and administrative staff, as well as with the community in which he has relocated, there's increased chance that he will work out well and have a lengthy tenure with the healthcare organization he has joined.
In handling a myriad of concerns that physicians and their spouses have in deciding on a practice opportunity—and making the employment process as smooth as possible—physician recruiters serve, to some degree, as "marriage counselors."
Mr. McKeever further commented: "As this interview further illustrates, hospital recruiters play a vital role in the sourcing and ultimate recruitment of the top available candidates for medical staff vacancies, a task made more challenging by market forces and circumstances beyond their control. Their success is paramount to the organization's plan concerning overall physician staff development."
Here is the link to the interview: http://www.jacksoncoker.com/physician-career-resources/newsletters/monthlymain/des/RebekaDriggers.aspx.
About Jackson & Coker

Begun over three decades ago, Jackson & Coker has been a leader in physician recruitment through the placement of physicians in both permanent placement and locum tenens physician jobs. The firm specializes in anesthesiology jobs, CRNA jobs, neurology jobs, psychiatry jobs, surgery jobs, primary care jobs as well as emergency medicine jobs. Headquartered in metro Atlanta, the firm has earned a reputation for providing cost-effective, time-sensitive solutions to both government and commercial health care organizations. The recruitment staff works in two divisions of the company: Retained Search, which places physicians in over 40 medical specialties in permanent staff positions, and locum tenens, a staffing model that recruits medical providers (physicians and CRNAs) for temporary vacancies.
Jackson & Coker has earned a "Gold Seal" designation as a "Certified Health Care Staffing Service" by the Joint Commission and is affiliated with a credentials verification organization (JH CVO) that has received certification by the National Committee for Quality Assurance (NCQA) in ten out of ten credentialing elements.
Jackson & Coker participates in social media networks such as Facebook, LinkedIn, YouTube and Twitter—including managing separate Twitter websites focused on major medical specialties.
About Jackson Healthcare

Founded by the healthcare innovator Richard Jackson, Jackson Healthcare serves more than two million patients in nearly one thousand hospitals each year. The Jackson family of companies provides physician and clinician staffing, anesthesia management, hospital management and healthcare information technology solutions proven to improve clinical and financial outcomes, as well as increase operational efficiency. Jackson Healthcare has earned national media coverage for its physician polls and champions local and international charitable work. In addition, Jackson has been recognized as one of the fastest growing staffing companies in the country by the Inc. Magazine, Atlanta Business Chronicle, Georgia Trend and Staffing Industry Analysts. For more information about Jackson and its companies, visit Jacksonhealthcare.com. Jackson's research reports are available in the "Market Research" section under the upper tab "Media Room" on the home page.
Media Contact:

Edward McEachern

Jackson & Coker

678-277-3030

emceachern(at)jacksoncoker(dot)com
###