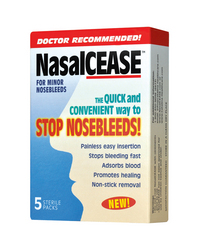 Mendon, NY (Vocus) September 29, 2010
Allergies, colds and sinus infections are among the leading causes of recurring nosebleeds. In the United States, 35 million people suffer with nasal allergies; 31 million people experience sinus infections; and more than one billion colds are reported annually.
All of these conditions can lead to a bloody nose as a result of: swelling and irritation of the nasal cavities; side effects of certain medications used to treat the condition, particularly steroid nasal sprays; and excessive nasal dryness caused by frequent use of nasal decongestants.
Now sufferers searching for how to stop a bloody nose have an alternative to tissues and nose pinching. NasalCEASE® is available over the counter and is the quickest and most convenient way to stop nosebleeds. NasalCEASE® will stop a bloody nose quickly, allowing sufferers to quickly get back to what they were doing.
NasalCEASE® is easy to use and painless. Just twist the soft fiber material, pack it in the nasal cavity, and go on with your activities. This natural based bio-polymer –100% calcium alginate – provides the remedy nose bleed sufferers need. As soon as NasalCEASE® comes in contact with blood, calcium is released. Calcium is a coagulant which actively aids in quickly stopping the nose bleed. Calcium is released until the bleeding has completely ceased.
Calcium alginate can absorb up to twenty times its weight. As a result, 90-plus percent of nosebleeds can be effectively treated with just one NasalCEASE® packing. The nose bleed sufferer can easily insert NasalCEASE® and forget about it until the recommended removal, thirty minutes later.
Marjorie Payne from Centennial, Colorado said, "I am prone to seasonal nosebleeds and I am so happy to have found a product that works so well. Some of my nosebleeds have taken over an hour to stop using a tissue plug and ice and pressure. NasalCEASE® has quickly stopped my nosebleeds."
Research shows that 30% of all U.S. households have one or more sufferers of frequent nosebleeds including children and adults of all ages and both genders. In addition to allergies, colds and sinus infections, other major causes of recurring nosebleeds include: people with Hereditary Hemorrhagic Telangiectasia (HHT); those taking blood thinners; people with blood-based diseases such as hemophilia and Von Willebrand's disease; cancer patients being treated by chemo or radiation therapy; and women who are pregnant. Not to mention the thousands of nosebleeds caused by contact sports activities like football, soccer and wrestling.
NasalCEASE® is 100% safe, without side effects and without any contraindications with other medications. NasalCEASE® is sold in boxes containing five sterile packs. Each sterile pack treats one nose bleed. The individual sterile packs can be conveniently stored and can be easily carried in a purse or pocket, ensuring easy accessibility whenever and wherever a nosebleed should occur.
Dr. Terrance J. Kwiatkoski, M.D., ENT of Bullhead City, AZ, recommends NasalCEASE® to his patients. "I have been recommending NasalCEASE® to my epistaxis patients for over four years now with great success. My patients find it stops their nosebleeds quickly and safely. As opposed to other alternatives, they also find it easier to use, allowing them to quickly get back to what they were doing at the onset of their nosebleed."
NasalCEASE® is available in the first-aid section at national chain pharmacies such as CVS/pharmacy, and independent pharmacies. If a pharmacy does not carry NasalCEASE®, they can order it from their wholesaler for customer pick-up within twenty-four to forty-eight hours.
Seasonal allergy sufferers who have recurring nosebleeds can request a trial sample of NasalCEASE® and in coupons and healthcare professionals can request free patient sample kits by visiting www.nasalcease.com or by calling Catalina Healthcare at 1-800-650-NOSE (6673).
###