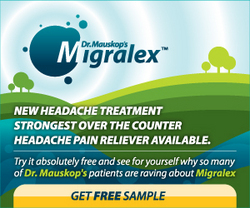 New York, NY (Vocus) September 27, 2010
Intravenous (IV) injection of aspirin is a very effective treatment of acute migraine headaches. The researchers in London reported in the journal Neurology that of the 113 patients who were given IV aspirin 86% reported moderate or good relief of their migraine.
There were very few side effects reported and the most common side effect, nausea was present in only 4 patients (although nausea could have also been due to migraine itself). The doctors reviewed 1,232 instances of aspirin infusions and found no major side effects. They do call for "careful monitoring" of patients with histories of asthma, gastro-intestinal bleeding or NSAID intolerance, but even in those patients they feel that "such patients can be counseled that the likelihood of a serious problem arising from the use of IV aspirin is very low".
In most of their patients IV aspirin was used to treat very difficult withdrawal, or "rebound" headaches, suggesting that it would be even more effective for regular severe migraines that requires an injection. Dr. Peter Goadsby, one of the authors of the report feels that this is one of the few non-sedating and non-addictive IV treatment for severe migraines.
IV aspirin is not available in the US, but IV ketorolac (Toradol), a drug in the same NSAID family has been available for many years and according to Dr. Mauskop, Director of the New York Headache Center is also very effective for severe migraines and other headaches. He has given this drug to hundreds of patients with results similar to those reported for aspirin. Oral ketorolac however is much less effective than IV and than other oral NSAIDs. It also carries a much higher risk of side effects than intravenous ketorolac, aspirin, or oral aspirin and other oral NSAIDs.
About Alexander Mauskop, MD:

Alexander Mauskop, MD, known as "America's Headache Doctor," is a world-renowned neurologist, headache expert, author, and founder and director of the New York Headache Center. He is also creator of Dr. Mauskop's Migralex™, the strongest combination medication for headaches available without a prescription, which is widely available online at www.Migralex.com, Amazon.com and at select pharmacies. He is board-certified in Neurology and Headache Medicine and is an Associate Professor of Clinical Neurology at the State University of New York, Downstate Medical Center.
About Dr. Mauskop's Migralex™:

Dr. Mauskop's Migralex™ is fast acting, free of sodium, caffeine and preservatives, and is clinically proven to ease headaches brought on by sinus pain, stress, tension, menstruation, and exertion. The formula reduces inflammation, inhibits the clumping together of platelets, relaxes blood vessels and normalizes dozens of chemical reactions, while successfully and rapidly attacking pain. Widely available at Migralex.com, Amazon.com and at select local pharmacies. Get a free sample of Dr. Mauskop's Migralex™ here: http://www.migralex.com/request-free-sample-consumers/.
###