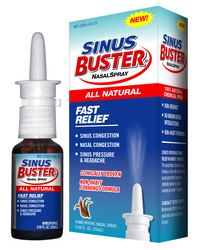 Morristown, NJ (Vocus) September 30, 2010
Each year as the summer ends and the calendar turns toward September, consumers brace for the inevitable bouts of coughing, stuffiness, runny nose, and congestion—symptoms of the common cold. And it truly is common, as the average adult contracts two to four colds per season. But going to the store to purchase medicine can be confusing, due to the overwhelming selection and multitude of identical formulas. It's no wonder that consumers consistently rate the cough-cold section as one of the most confusing in the store.
This Fall, Sinus Buster is building off of its strong 2009-2010 national launch, relieving the confusion and the symptoms of the common cold. Unlike the plethora of other remedies on the shelf, Sinus Buster is different. Sinus Buster starts to work in less than one minute to relieve sinus congestion, pressure and pain. It can also be used for weeks at a time to help relieve symptoms of the common cold, which typically lasts five to ten days. The vast majority of other nasal sprays contain oxymetazoline and phenylephrine, which restrict use to just three days, hardly enough time to combat those persistent wintry symptoms. Sinus Buster is all-natural and contains no harmful chemicals or preservatives.
For the past few years, sufferers have had the opportunity to use Sinus Buster with great success. Feedback from consumers has been overwhelmingly positive, with comments such as:

"This one single product has changed my life! This product has changed my sinuses!"
"Instant relief of pressure and congestion."
"Wow! Immediate, no nonsense relief!"
Now, with dramatically more national retailers stocking Sinus Buster, millions of sufferers will have the breakthrough opportunity to experience relief that starts in under a minute in a remedy that's safe enough to use for weeks at a time. Sinus Buster can be found nationally at:

Wal-Mart
K-Mart
Walgreens
Rite Aid
CVS
Safeway
Sinus Buster can also be found at regional food and drug chains across the country. In total, nearly 30,000 retail locations in the United States stock Sinus Buster. And Sinus Buster, together with all of the Buster Brands products, can always be purchased online at http://www.busterbrands.com.
This year, when those pesky symptoms force a visit to the store, Sinus Buster will be on the shelf to help.
###