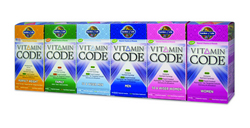 West Palm Beach, FL (Vocus) August 22, 2008
Recent trends show that health conscious consumers are going "beyond organic" and looking for the numerous health benefits associated with raw foods and products. After three decades of research, a scientific breakthrough has yielded the first raw multivitamin (www.RawVitamins.com), a vast improvement upon vitamins that are heated, treated and often stuffed with food powders.
Garden of Life, Inc., (www.gardenoflife.com) a leading innovator in the Natural Products industry, has changed the way vitamins are made with the launch of The Vitamin Code™, a groundbreaking dietary supplement line created to change the way Americans take vitamins and minerals forever.
Unlike many synthetic multivitamins produced in laboratories, The Vitamin Code formulas are individually cultivated with their unique raw food created nutrients and Code Factors™ intact (http://www.youtube.com/watch?v=S8rn6xGONZg). The raw vitamins deliver living enzymes and probiotics and are uncooked, untreated and unadulterated without added binders and fillers. In addition, the vitamins are 100 percent vegan and do not contain any soy allergens, gluten, dairy or fructose.
"We're excited about this breakthrough development because most consumers have no idea what they're getting when they purchase a bottle of 200 vitamins for ten dollars in the grocery store," said Jordan Rubin, founder and CEO of Garden of Life and best-selling author of The Maker's Diet and 18 other health titles. "People may think they are getting a bargain, but the vast array of nutrients and co-factors that are found in food–and missing from synthetic, highly processed vitamins–could be important for their personal health. The Vitamin Code delivers nutrients in a form that nature provides and that the body thrives upon."
The Vitamin Code features six targeted formulas: Vitamin Code Women's formula; Women 50 & Wiser; Vitamin Code Men's formula; Men 50 & Wiser; Vitamin Code Family formula for adults as well as children six and older; and the Vitamin Code Perfect Weight formula for those looking to effectively manage their weight. With the exception of the Ashwaganda used in the Perfect Weight Formula that is momentarily exposed to high heat, all ingredients are 100 percent active and have not been subjected to high heat used in some tablet manufacturing processes.
Validated by scientific research, The Vitamin Code is an exciting discovery linked to a Nobel Prize winner, a determined biochemist, and an escape from the Iron Curtain in the 1950s. Endre "Andy" Szalay, a Hungarian pharmacist, became interested in vitamin research when he sat in on lectures at the University of Szeged by Dr. Albert Szent-Gyorgyi, who won the Noble Prize in 1937 for discovering vitamin C (ascorbic acid). Szalay had a dream to find a way to provide mankind with vitamins and minerals that would not be isolated and synthetic but would be in the ideal form that the body could properly utilize. During political and military unrest, he and his family escaped the Iron Curtain during the Hungarian Revolution in 1956.
For more than 30 years, Szalay conducted painstaking experiments to find a way to reconnect vitamins and minerals to the food from which they originated. His relentless work resulted in the detection of nutrient-specific peptides unique to each growth organism that allowed for the proper uptake of nutrients. Szalay finally "cracked" the Vitamin Code and teamed up with Garden of Life to offer consumers the first raw food-created vitamins and minerals.
With a suggested retail price of .95 for a 120-count bottle, Vitamin Code vitamins can be purchased nationwide at national chains such as The Vitamin Shoppe (www.thevitaminshoppe.com) and independent health food store retailers. In addition, Garden of Life will be partnering with Vitamin Angels to provide vitamins free of charge to children, expectant mothers, and families in need throughout the world. Vitamin Angels (www.GuideStar.org) is a non-profit organization dedicated to providing vital nutrition in the form of supplements to developing countries, communities, and individuals in need.
For more information on The Vitamin Code, go to www.RawVitamins.com. For interviews with health expert and best-selling author Jordan Rubin, contact Rhonda Price at (561) 371-9407.
Contact:

Rhonda Price

rprice @ gardenoflife.com

(561) 371-9407
# # #
Find More Vitamins & Minerals Press Releases